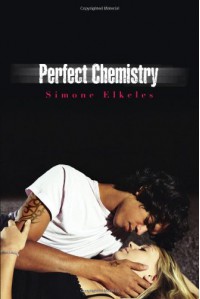 Seriously, this is one of the best books I have ever read. It reminds me a little of The Outsiders, except with a lot of romance lol.
The book switches points of view between the two main characters, Alex and Brittany. Both are from completely different worlds, or sides of town in this case. Brittany is the perfect girl. She is captain of the cheerleaders and her boyfriend is on the football team. Alejandro/Alex is a gang member who is only trying to look out for his family.
The two of them absolutly despise each other, until they are made Chemistry partners and their worlds are turned upside down.
I enjoyed reading about all the hardships and emotions that passed between all the characters. The book was beautifully written. It was like I was in the story, feeling what the characters felt. It was such an amazing journey and I would recommend anyone read it, even those action/adventure/fantasy buffs like me. I know you won't regret it.
Happy Reading :D